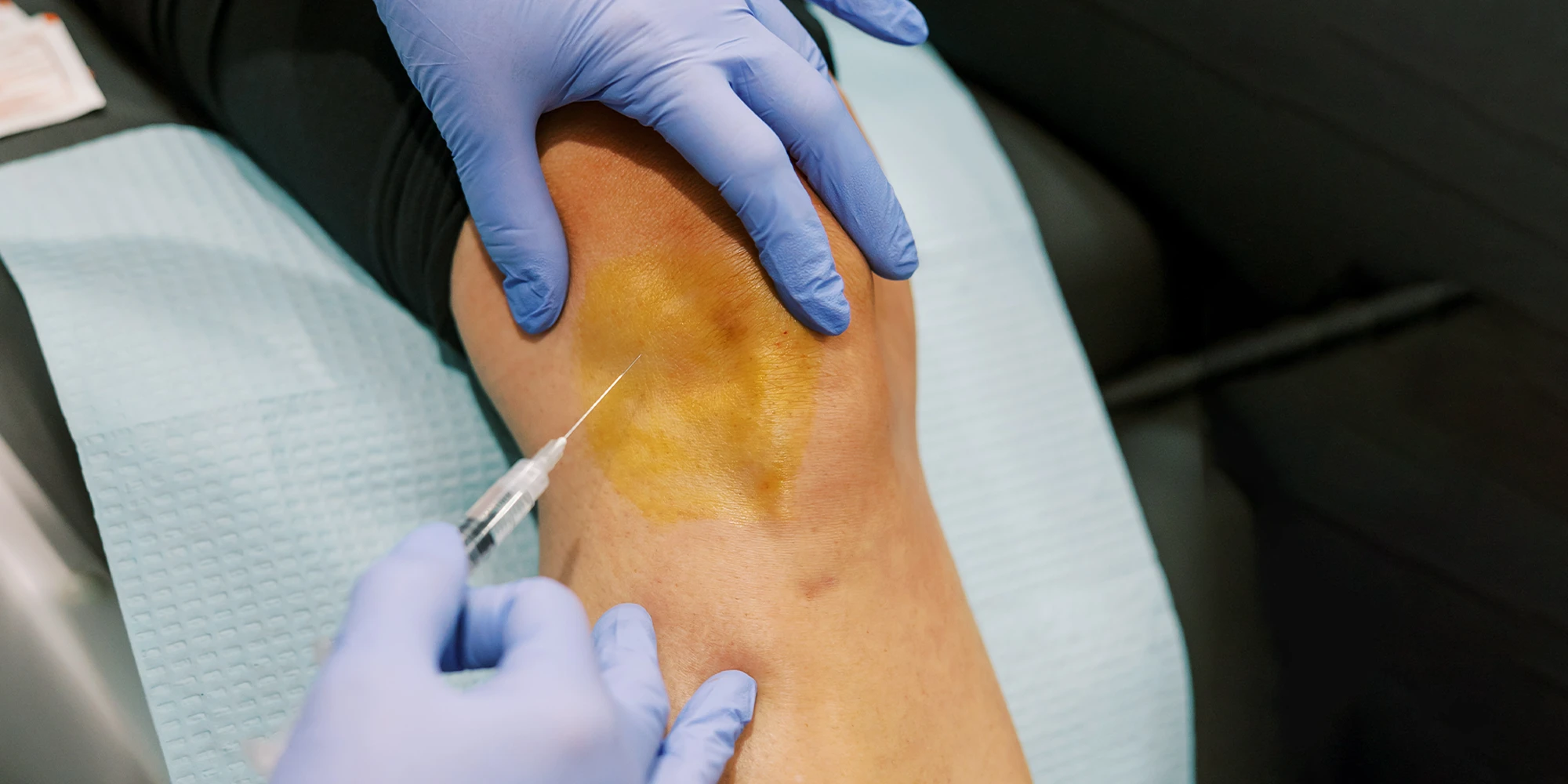 Request an Appointment Today!

Regenerative Therapy in Chandler AZ
Serenity Healthcare
2580 W Chandler Blvd Suite 4
Chandler, AZ 85224
Request An Appointment Today!
We're seeing fantastic results helping people with the following:
Regenerative THERAPY, COULD IT CHANGE YOUR LIFE?
Regenerative therapy uses various techniques to assist or accelerate the body's natural healing ability. It aims to "regenerate", restore or replace human cells and tissues. It can often restore lost functionality. Our clinic offers regenerative therapy in Chandler AZ.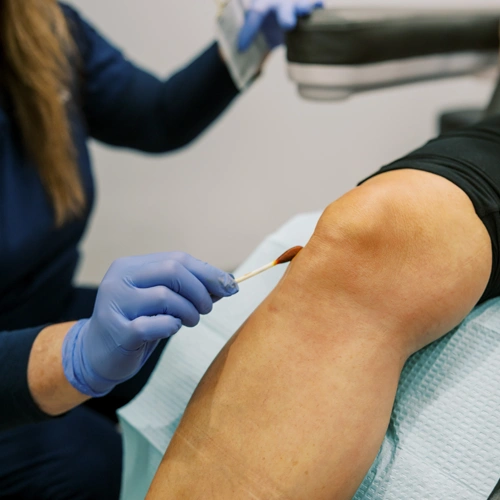 Have you struggled with a chronic condition?

Some regenerative therapy strategies might include delivering a super-concentrated healing factor or stimulating the body's natural healing response by delivering an irritant.

Regenerative therapies are often administered through injections which allow the practitioner to deliver the healing factors directly to the site of injury with very minimal additional injury to more superficial tissues. (By the way, creating additional injury to more superficial tissues is essentially what surgery does, which is one reason why surgery should be considered a last resort for most non-emergent tissue injuries. Yet, if surgery is needed we can also provide it through our Advanced Surgical Center.)
What Conditions Can Regenerative Therapy Be Used To Treat?

Regenerative therapy can be used to treat a wide variety of conditions. The more common conditions are musculoskeletal conditions like joint pain, but it can be used to treat other conditions as well. Here at Serenity Health we use regenerative therapy to treat all of the following and more:
Muscle, Bone & Joint (Musculoskeletal) Conditions:
Muscle Pain
Arthritis
Joint Pain
Joint Instability
Cartilage Injuries
Tendonitis
Tendon tears
Ligament Sprains and strains
Sports Injuries
TMJ (Jaw joint)
Neck Pain
Shoulder Pain
Rotator Cuff
Elbow Pain
Tennis Elbow
Golfers Elbow
Wrist Pain
Carpel Tunnel
Hand Pain
Back Pain
Cont.
Lower Back Pain
Sacroiliac Pain
Hip Pain
Sciatica
Knee Pain
ACL Injuries
Knee Instability
Ankle Sprains
Ankle Pain
Foot Pain
Arch Pain
Plantar Fasciitis
Other Conditions:
Headaches/Migraines
Hair Loss
Inflammation
​Lacerations/Cut Injuries
Autoimmune Diseases
Depression/Anxiety/Mental Health Issues
Lower Back Pain
Sacroiliac Pain
Hip Pain
Sciatica
Knee Pain
ACL Injuries
Knee Instability
Ankle Sprains
Ankle Pain
Foot Pain
Arch Pain
Plantar Fasciitis
Other Conditions:
Headaches/Migraines
Hair Loss
Inflammation
​Lacerations/Cut Injuries
Autoimmune Diseases
Depression/Anxiety/Mental Health Issues
Schedule An Appointment Today!
What are some common regenerative therapies?
The platelets in our blood are one of the most important factors for healing. Using blood collection and centrifuge techniques, the practitioner extracts platelet-rich plasma and injects a concentrated amount to the site of injury. This delivers an amount up to 10 times what the body would deliver to the site of injury through the vascular system.
Also called proliferative therapy or proliferation therapy. The practitioner injects a dextrose solution to the site of injury. Dextrose is a sugar which induces the body's natural wound healing cascade. The wound healing cascade is a series of steps where the body uses certain proteins and healing factors to collect what it needs to heal the tissue and then heal it. The injection may also contain Vitamin B12, salt, and either Lidocaine or Marcaine, which are numbing agents that make the injection more comfortable.
Also called prolozone therapy. The natural oxygen that we breathe in the air contains molecules with 2 oxygen atoms. A special machine creates ozone molecules with 3 oxygen atoms for therapeutic use. A small amount of ozone is injected into the blood stream which results in increased protein formation and red blood cells, which in turn increases oxygen supply. It has also been shown to disrupt unhealthy body processes and reduce infection.
Vitamin B12 is a vitamin that plays a role in brain function and red blood cell production. It is often combined with prolotherapy mentioned above, but can be administered on its own.
Trigger points are specific locations within muscle where the muscle doesn't relax so they form knots, which can be painful since they pinch local nerves and can become inflamed. Traditional medicine might use corticosteroid injections in trigger points to relieve pain; instead we tend to use one or more of the ingredients mentioned above to reduce inflammation and stimulate healing. For trigger point pain we can also provide massage therapy or dry needling through our in-house partner, Grant Chiropractic & Physical Therapy.
The body performs thousands of chemical reactions internally every day and vitamins are essential ingredients for catalyzing those reactions. By administering the vitamins via intravenous infusion we can provide your bloodstream with a higher concentration of vitamins in their more complete structure. When taking vitamins via oral capsule the body has to break down those vitamins to absorb them into the bloodstream through the gut and the absorption amount is usually a low percentage depending on the quality. (If you'd like oral administration of vitamins with a higher absorption rate than what you get at local stores then consider those provided through our in-house partner, Fresh Start Wellness)
Hormone replacement therapy is most common among women after menopause. It is used to replace estrogen which is no longer produced after menopause and which is used for multiple body functions. Yet, the "hormone" that we replace can potentially be any hormone that you might be lacking. In males this might be testosterone (for treating erectile dysfuction among other reasons), but there are other hormones which your body could also be lacking. One way to tell is by getting a test called a zyto scan through our in-house partner, Fresh Start Wellness.
This therapy uses acoustic waves to trigger biological healing. It uses a machine to generate the waves which are pointed towards the site of injury using the wand (like magic of course — it actually looks more like a gun on some devices, and technically it's called an applicator). Unlike the therapies mentioned above this is not administered by injection. It is particularly useful for chronic pain from myoskeletal conditions (muscle and skeletal injuries).
PEMF stands for pulsed electromagnetic field therapy. This therapy uses a device to deliver pulsed energy waves toward a site of injury in the body. It is also known as low field magnetic stimulation (LFMS).
Cold lazer therapy uses light at a specific frequency which is directed at a site of injury to stimulate healing. It's called a "cold" laser because the device is specifically designed to prevent heating or burning the tissue while still being able to use the light.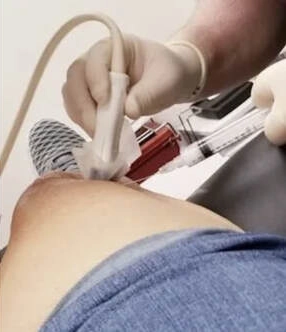 Ultrasound-Guided Injections

As you may have noticed, many of the therapies above are administered via injections. Most practitioners are able to perform injections based on touch and their extensive knowledge of human anatomy. Here at Serenity Healthcare we take the quality of our services a step further by administering injections with the guidance of ultrasound.

Most patients who are mothers are quite familiar with ultrasounds since these devices are often used to assess the health of a pre-born baby in the womb. Yet, ultrasounds can be used to visualize a variety of both hard and soft tissues and it even helps the practitioner see specifically where inflammation is occurring. With ultrasound-guided injections, the practitioner can precisely administer the injection into a joint or at the exact site of tissue injury.
Contact Us Today

Do you feel like traditional medicine isn't quite working for your pain or chronic condition? Are you ready to discuss real healing instead of masking your condition with chronic use medications that can be bad for your kidneys or liver? Would you like to have a team of experts that is dedicated to your whole health using state-of-the-art techniques and therapies? Then contact Serenity Healthcare today for a regenerative therapy consultation.
Schedule An Appointment Today!