Request an Appointment Today!

Physical Therapy in Chandler AZ
Serenity Healthcare
2580 W Chandler Blvd Suite 4
Chandler, AZ 85224
Request An Appointment Today!
We're seeing fantastic results helping people with the following:
Experience Physical Therapy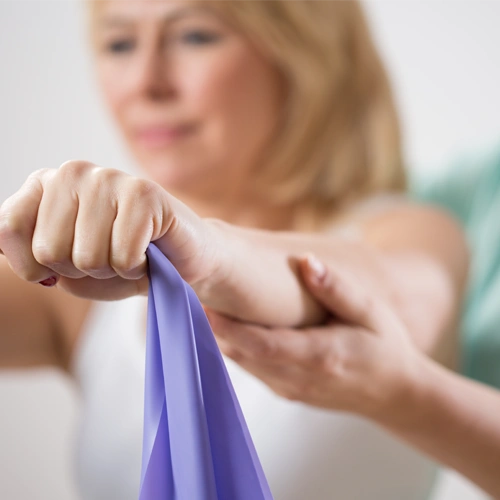 CONDITIONS THAT PHYSIOTHERAPY HELP IN Chandler AZ

Physiotherapy helps restore function, improve mobility, relieve pain, and prevent or limit permanent physical disabilities of patients suffering from injuries or disease. Physiotherapy or "medically directed rehab" helps restore, maintain, and promote overall fitness and health. Our Chandler AZ patients include accident victims and individuals with disabling conditions such as low-back pain, arthritis, heart disease, fractures, head injuries, and cerebral palsy.
HOW PHYSICAL THERAPY WORKS

Treatment often includes exercise; especially for patients who have been immobilized or who lack flexibility, strength, or endurance. Physiotherapy helps encourage patients to use their muscles to increase their flexibility and range of motion. More advanced exercises focus on improving strength, balance, coordination, and endurance. The goal is to improve how an individual functions at work and at home.

Physiotherapy also helps treat a wide range of disorders; such as pediatrics, geriatrics, orthopedics, sports medicine, neurology, and cardiopulmonary physiotherapy.
Joint mobilization is a manual therapy intervention, a type of passive movement of a skeletal joint. It is usually aimed at a 'target' synovial joint with the aim of achieving a therapeutic effect. When applied to the spine, it is known as spinal mobilization.
The goal of soft tissue mobilization (STM) is to break up inelastic or fibrous muscle tissue (called 'myofascial adhesions') such as scar tissue from any injury, move tissue fluids, and relax muscle tension.
​Manual traction/joint distraction is a form of decompression therapy that relieves pressure within the joint and spine. Manual traction is the act of pulling something along a surface using motive power. Joint distraction is the separation of joint surfaces without rupture of their binding ligaments and without displacement. Both are used to achieve space within the disc, synovial joints, as well as take pressure off any surrounding nerves.
Myofascial release (or MFR) is an alternative to medicinal therapy that treats skeletal muscle immobility and pain by relaxing contracted muscles, improving blood flow and lymphatic circulation, as well as stimulating the stretch reflex in muscles.
Cupping therapy is an ancient form of alternative medicine in which a local suction is created on the skin over the effected area using a hand pump. Practitioners believe this mobilizes blood flow in order to promote healing.
Sound Assisted Soft Tissue Mobilization (SASTM) is a gentle method that detects and treats soft tissue restrictions, scar tissue, and chronic inflammation. Instruments effectively break down fascial restrictions and scar tissue. It is most effectively used for the restoration of function and the reduction of pain.
Muscle Energy Techniques (METs) describes a broad class of manual therapy techniques directed at improving musculoskeletal function or joint function, and improving pain.
The Deep Muscle Stimulator© and Erchonia Percussor© use percussion, mechanical vibrations, and oscillations that penetrate deep into the muscle tissue to stimulate proprioceptive functions, resulting in localized and global neuromuscular changes. The DMS and Percussor facilitate the patient with the benefits of:
Increased circulation and lymphatic flow
Reduced pain and lactic acid build-up
Faster rehabilitation from injury and tissue regeneration
Break up of muscular scar tissue
Soft and active tissue release
The appeal of non-surgical spinal traction is that it is a non-invasive, non-surgical, drug-free alternative treatment for neck and low back pain, radicular pain (pain down the arms and legs), headaches, disc degeneration, disc bulges, disc herniations, and facet syndrome. Spinal decompression is achieved through the use of a mechanical traction device applied through an onboard computer that controls the force and angle of disc distraction, which reduces the body's natural propensity to resist external force and/or generate muscle spasms. This enhanced control allows non-surgical spinal decompression tables to apply a traction force to the discs of the spinal column reducing intra-discal pressure.
The force is used to create a degree of tension of soft tissues and/or to allow for separation between joint surfaces. The degree of traction is controlled through the amount of force (pounds) allowed, duration (time), and angle of pull (degrees) using mechanical means. Depending upon the program utilized, the traction can either be static or dynamic depending upon the length of time the traction force is applied.
Therapist assisted stretching is the use of stretches and exercises performed to increase range of motion and flexibility by sustained muscle lengthening and myofascial release. Treatments are provided individually and specifically to patient's symptoms and conditions.
​Cervical traction is a therapeutic exercise used to rehabilitate the loss of the normal cervical lordosis and/or to correct "text neck". This is achieved using weighted cervical extension/compression maneuvers coupled with pelvic core stability equipment (the dyna-disc©), to rehabilitate, stimulate, and stretch the postural muscles of the cervical-brachial plexus while strengthening the core muscles. The patient is seated on a dyna-disc© while weights are positioned behind the neck and on the patient's forehead. The objective is to stretch ligaments and muscles while strengthening the core muscles, resulting in reestablishment of the cervical curve.
The latest fitness device being used by patients at Grant Chiropractic is the vibration plate. For those interested in losing weight and building muscle, the plate provides vibration therapy, which can offer the same benefits as an hour in the gym undergoing traditional training. Using a vibration plate is fairly simple. While properly positioned, you stand on the plate as it vibrates rapidly. The entire body vibrates due to the high frequency of the platform, which causes the muscles to contract and stretch in order to sustain balance. Even the most basic exercises will be intensified. Depending on your level of fitness, the duration and frequency of use will vary.
Above and beyond the fitness advantages, the vibrations can assist in the production of hormones that repair and revitalize cells. Blood circulation is enhanced in the muscles and bone tissue is reinforced. Use of vibration therapy can also promote the drainage of lymph nodes and increase overall metabolic rate. A general increase in strength, speed, flexibility and stamina can be achieved along with better post workout recovery. The quality and efficiency of a workout can be heightened with less time invested.
Our patients improve cervical range of motion and overall functional performance by stretching with a TheraBand™ Resistance Band. The patient will perform several stretches developed by our team, under our supervision, in order to alleviate stress and tension prior to the spinal adjustments.
Schedule An Appointment Today!